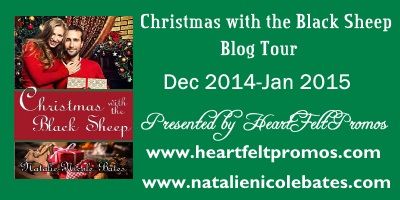 Blurb:
It's Christmas time, and Eriah Jameson has returned home to restart his family's business. Due to his wild child past, no one is friendly or welcoming to Barrow Haven's black sheep.
Aylin Myers lost her job when Eriah's father took ill. She knows Eriah needs her help getting his business up and running again, but she doesn't trust him. If he fails, she knows it will dishonor his father's memory. And Aylin knows that at Christmas, it's the right thing to help your fellow man—no matter how wretched he might be.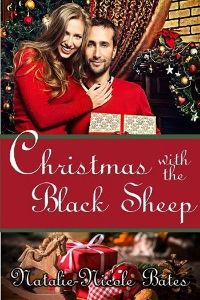 As Aylin gets to know Eriah, she sees a side of him Barrow Haven never saw. That perhaps the black sheep has changed for the better. Still, can she be sure this side of Eriah is real, and not just a facade he's perfected over time to get his own way?


Excerpt:
Aylin took a seat in the back of the café at an empty table near the fire, and ordered a pumpkin spice coffee, and two sugar cookies.
As she waited for her order, she took a moment to simply soak up the Christmas atmosphere. Just as her cookies and coffee arrived, an unwelcome visitor to the café caught her eye. Eriah Jameson.
She begrudgingly admitted to herself, that the man looked good. Tall and lean, with dark hair, he dressed casually in jeans, and a heavy leather jacket.
When he walked toward her table, she made a pretense of lifting one of the star-shaped cookies into her hand, and

focused her sight on it. She wondered if he'd come her way

and confront her about the altercation that took place with his sniveling girlfriend. If he did, she had a bill tucked away in her handbag for the candle she vandalized.
When she looked up again, he was stood in front of her.
"Can I sit down?" he asked.
"If you're here to pay for the candle your girlfriend destroyed, then yes. Anything else, no."
He removed his jacket, and placed it on the back of the chair, pulled out his wallet, peeled off several bills, and then pushed them across the table to her. He then took a seat across from her.
"I believe this concludes our business, Eriah. Sorry, Riley."
"Eriah is fine." He drummed his fingertips on the wooden tabletop. "Have I done something to offend you, Aylin? I mean, the harsh attitude can't all be about one broken candle."
She couldn't believe his glib attitude. "I happen to work very hard. Maybe that's something you or your girlfriend know nothing about. That candle was a customer's order. I had to take additional time to make sure the customer had her order when she arrived to pick it up, which I wouldn't have had to do, had your girlfriend not come into my workshop—my home—and started making demands, and acting like I'm beneath her.
And to answer your question, no it's not all about the candle. I worked for your father for several years. He was like a surrogate dad to me. You are his son, and you didn't have the decency to visit him in the hospital while he was dying, or inconvenience yourself and attend

his funeral."
Eriah looked stung, but she didn't regret her words. Maybe a strong dose of reality was what he needed.
"I didn't come home, Aylin, because I didn't know he was dying. No one bothered to call me and let me know he died. That is why I missed the funeral."
"No one knew where you were, or how to get it touch." She waved him off. "It's over now. You wanted to know the truth, and you have it. You can go back to wherever it is you came from." She tucked the wad of cash into her handbag. "You and I are even."
Buy Links:
Author Bio:
Natalie-Nicole Bates is a book reviewer and author.
Her passions in life include books and hockey along with Victorian and Edwardian era photography. Natalie contributes her uncharacteristic love of hockey to being born in Russia.
She currently resides in the UK where she is working on her next book and adding to her collection of 19th century post-mortem photos.
Visit Natalie-Nicole Bates Online!