Hey Everyone, it's my day to blog again here at the Moonlight Romance Authors blog. Today I thought I'd talk about my short English Tea Rose, Sweet Revenge, published by The Wild Rose Press. This story is set during the regency times, but it's more of a mystery intrigue than your normal ballroom regency. Please read on to find out more about Sweet Revenge.
~Marly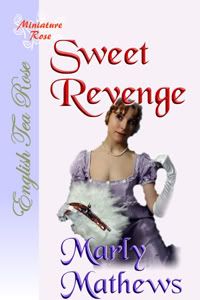 BLURB:
SWEET REVENGE
English Tea Rose Line
historical romance
By Marly Mathews
Publisher: Wild Rose Press
Lady Carys Richardson is a woman set on a mission. She's convinced her brother, Charles was murdered during his service in the Napoleonic wars. On her path to vengeance, she falls in love with the Duke of Penrose, Thomas Williams. Thomas was her brother's commanding officer in the Navy. Her investigation leads her to point the accusatory finger in Thomas's direction and her world begins to unravel.
Lord Thomas Williams is a duke with wealth and power. He also is a man that knows too much without having enough evidence. When he finds out that Carys believes him to be the murderer, his heart is broken. But he hasn't lost his faith in Carys nor can he stop loving her. When Carys finally realizes her horrendous mistake, will it be too late to right the wrongs of the past and bring the true killer to justice?
EXCERPT:
SWEET REVENGE
© copyright 2007, Marly Mathews
"You come to me alone with no chaperone?"
She smiled. "Who would have accompanied me? Most of my friends are busy with other more pressing matters. They have to have their gowns pressed and ready for whatever social soiree they'll be attending tonight. It is after all, the height of the season."
"So it is." His eyes drank in the full length of her. "Though, you invite a heap load of scandal at your doorstep with your presence here."
"I know. That's why I'm here." Her blue eyes twinkled. "I need to discuss a matter of grave importance with you. I thought it could wait until the wedding night, but I daresay, I was quite mistaken."
"Then, we should get right down to it; no time like the present."
A hint of doubt glimmered in her wondrous eyes, and then faded as quickly as it had appeared. She was hesitant. He couldn't understand the startling change in her ... she'd always approached him with a certain amount of determined gusto.
"I--" She nervously cleared her throat. Her eyes took on a haunting sorrowful look that had him clenching his hands in worry. "Has your heart ever told you to do something, and your mind reels against it? Knowing that you couldn't possibly do what your heart tells you to do ... that it is beyond the realm of possibility?" With her last word, she dropped her voice to a faint whisper. She looked grief stricken, almost as if she were fighting an inner battle--and losing.
"If I hadn't followed my heart, I wouldn't be facing a lifetime of wedded bliss with you."
He hooked her arm through his, and they walked arm in arm down to the library. It was closed off, spacious and he happened to know that Carys had an extreme fondness for books. He was having his library updated before she moved in. Everything would be perfect for her. He'd have it no other way. He had to make her the happiest woman alive. If he didn't, he'd fail to fulfill a promise long ago made.
Available now from Wild Rose Press.
Buy it by clicking
Here's what Carly at Fallen Angels had to say about Sweet Revenge--she gave it FIVE ANGELS!
This is one Regency romance that is less about frippery and frills than about human nature and revenge. I was pulled into this story right away. The exchange between Carys and her horrid aunt is priceless! The nasty old woman is just plain rotten but Carys is quick-witted enough to give as good as she gets. I laughed out loud at the dialogue! So witty and fast paced, it made the words race by. The mystery of this is intricate and could be a bit confusing if the reader doesn't follow closely. The love story is sweet, and I like the fact that forgiveness and moving on is part of this story.
Sweet Revenge by Marly Mathews is a very enjoyable story, one that is both entertaining and amusing!
Reviewed by: Carly, Fallen Angel Reviews
NOTE: When I wrote this post it was Wednesday here where I live, even though the post says Tuesday. My apologies!
And if you want to keep up on my latest news and happenings, I'd love for you to join my yahoo author group! This group is usually low to moderate traffic, but you're free to set how you receive messages. I hold a few contests a month with all sorts of prizes being offered. Here's the link,
See you there!
~Marly